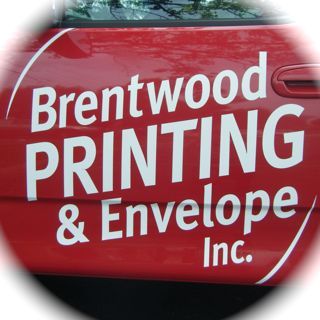 You'll find that Brentwood Printing is just the right size to serve you and your business. Unlike the "big box" shops, we're small enough to give you personal attention. But we're big enough to provide a full range of products and services, and to stay on top of new developments in printing and computing.
The name "quick printer" may be out of fashion, but we think it still does a good job of communicating who we are and what we do. We print -- and provide related services -- and we do it quickly. Our profesisonal staff and quality equipment allow us to be flexible and agile enough to meet your deadlines -- and your expectations!
Mission Statement
Our goal is to make you look good! We provide quality documents and services when you need them, helping your business grow and prosper.
Guiding Principles
Beginning as a two-person shop, Brentwood Printing has grown to a fully staffed printing, envelope, and mailing company now owned and operated by two generations of the Finke family. We've expanded twice, tripling our space to provide you with more and better services. We continue to update our computer and production equipment, to train and expand our staff, and to look for more ways to serve you.
In 2009, Brentwood Printing celebrated 20 years of service -- and we're still going strong!